Benefits of setting up Cloudflare for WordPress
Aside from having one of the world's biggest server networks for CDN, Cloudflare services include many other useful features that not only improve site SEO but ensure sustainable and quality user experience. Here are a few benefits of using Cloudflare for WordPress.
Free SSL: It's true that most hosting companies now include SSL as a compulsory service, but many websites still don't have an SSL certificate. Setting up Cloudflare would be a genuine and free means of getting HTTPS on your site if your current hosting plan doesn't include SSL.
CDN: The content delivery network service makes the static content of your site to load faster and saves bandwidth by delivering the content from the closest server to visitors.
DNS security: Cloudflare services include DNSSEC that protects information on your website DNS and data integrity.
DDoS Mitigation: This is a set of tools that protect your website from the impact of distributed denial-of-service (DDoS) attacks.
Image optimization: the Polish service has an automatic image optimization feature that helps to deliver them more quickly to browsers.
Cloud WAF: Cloudflare Web Application Firewall protects your site from over 145 types of web applications attack.
HTTP/2 Protocol: With a connection twice faster than HTTP/1.1, the h2 protocol used by Cloudflare helps to load multiple page elements over a single TCP connection.
Auto minify and Brotli compression: these two features allow you to compress the file size of your website's source code (JavaScript, CSS, and HTML) and texts for faster delivery.
If you already have Cloudflare setup then skip to the end of the page to configure Automatic Platform Optimization.
How to set up Cloudflare for WordPress (Step-by-step Tutorial)
You will need access to your WordPress admin dashboard and domain registrar account to update your DNS and configure the official Cloudflare plugin after the following steps. If you have already completed any of the steps correctly, or the entire steps here, head over to the next steps on this tutorial.
Step 1: Create a Cloudflare account
Visit cloudflare.com and click on the signup link at the top-right corner of the website.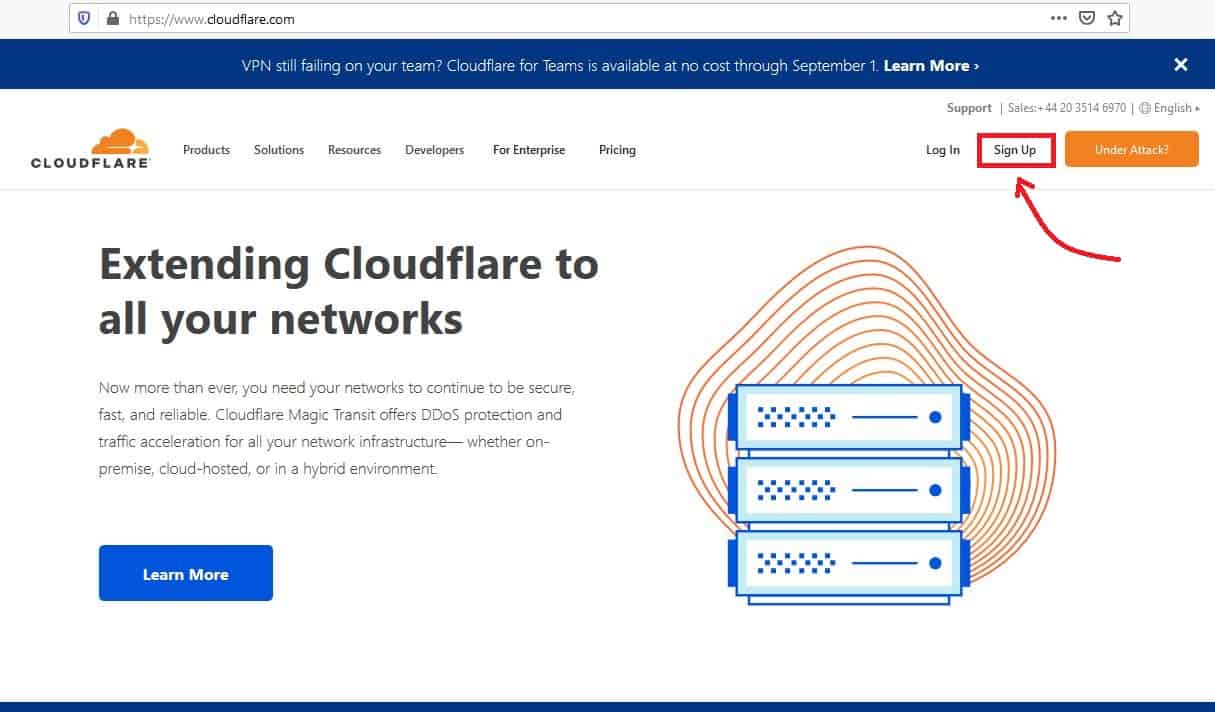 Complete the signup form by supplying your email address and password. Click on the Continue button.
Step 2: Add your site to Cloudflare
Once you submit the Cloudflare signup form, you'll be taken to your Cloudflare profile with a prompt to add site. Enter the domain name of your WordPress site and click on the Add Site button.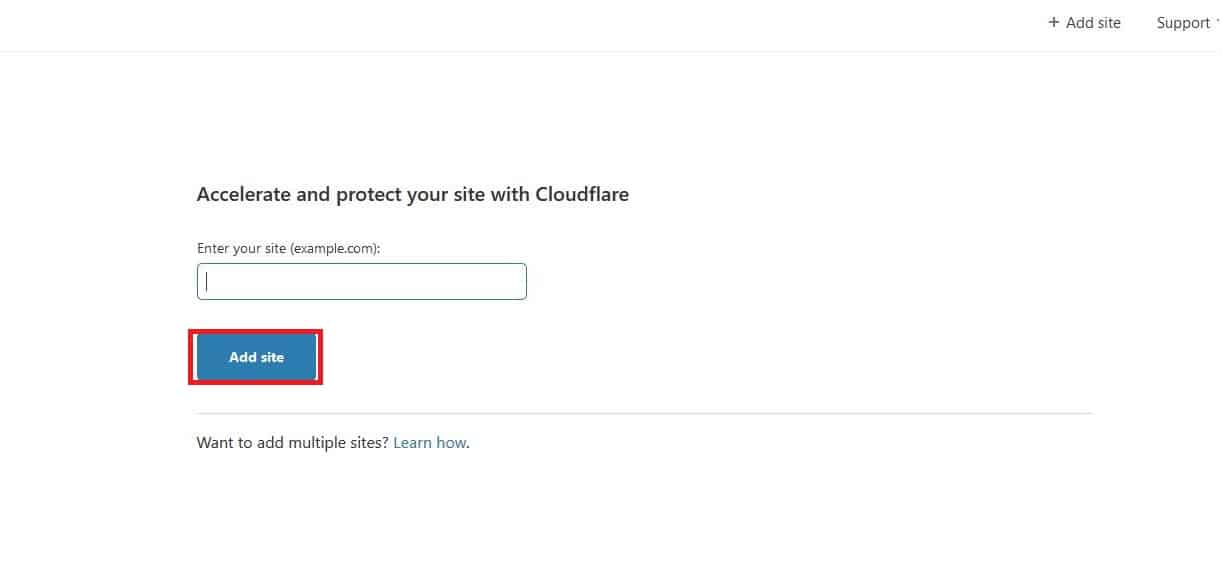 Step 2: Choose a service plan
The next step is to choose a service plan for the site you have just added. Click on the appropriate plan for selection and click on the Confirm plan button to continue with the setup.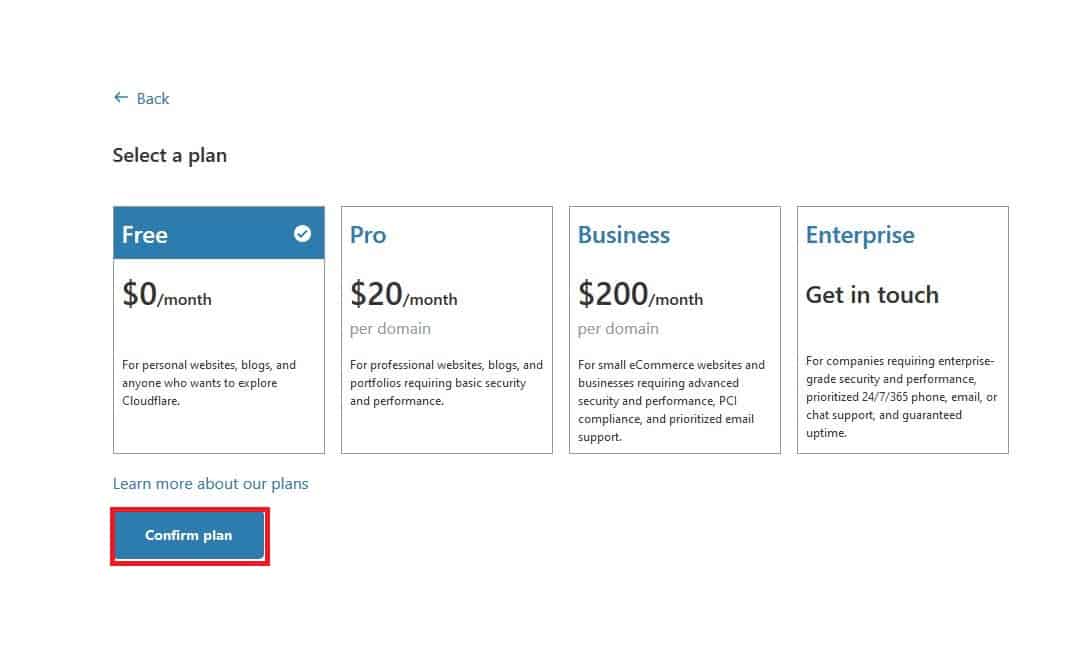 Step 3: Review your DNS records
You basically have nothing to do in this step but to look out for orange clouds next to the different hostnames on your website and the IP address each of them is pointing to. The orange cloud indicates that traffic to the hostname would go through Cloudflare. Scroll down to the bottom of the page and click on the Continue button.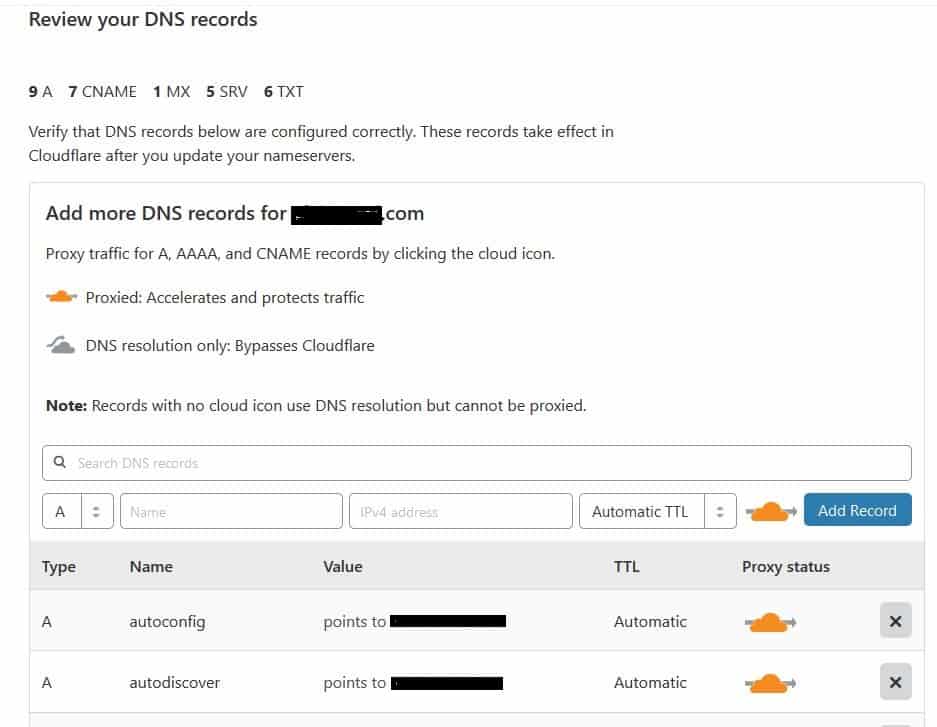 Step 4: Update nameservers or DNS servers
This is where you need to access your domain registrar account. Log in to the account and replace your nameservers with those provided on your Cloudflare set up page. Please refer to your domain registrar's page for support if you are not familiar with nameserver change. Click on the Done, check the nameservers button down the page as soon as you complete this procedure for the next step.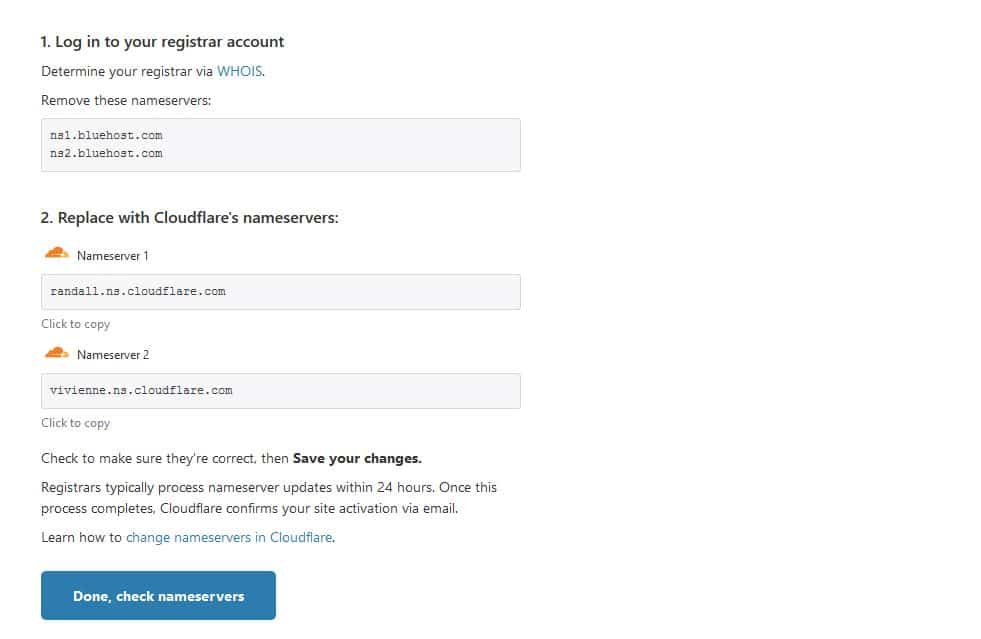 Step 5: Set up security and speed configurations for your website
This page is where you can activate or deactivate SSL, choose different encryption modes for your site protection, and select the source code to minify. You can skip this Cloudflare set up procedure and perform them directly from your WordPress dashboard using the official Cloudflare plugin. Click on the Skip set up a button to skip or the Done button to effect changes you have made on this page.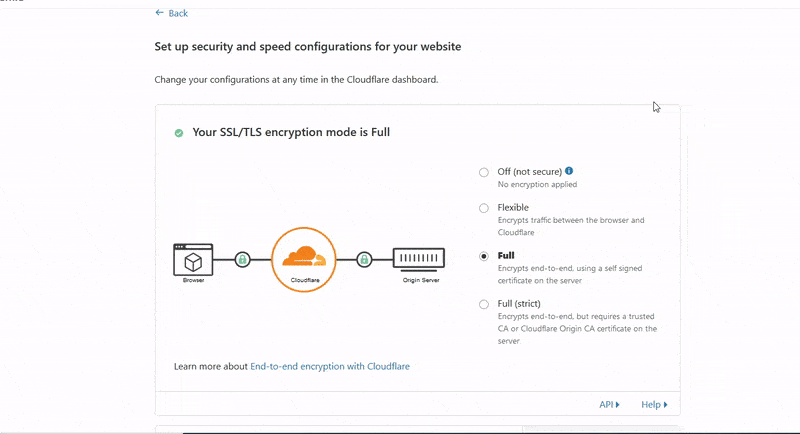 You should now see a goodness message on your Cloudflare setup overview page if the nameservers have been changed successfully. Congratulations! That's all the steps to set up Cloudflare for WordPress site. You may choose to continue with the next step to have full control of your Cloudflare settings right on your WordPress dashboard.

How to configure the official Cloudflare plugin
This plugin doesn't just allow you to perform setting on your Cloudflare account directly from your WordPress dashboard; it lets you monitor events on your website. You can view web traffic requests by country, bandwidth, and also learn about unique visitors aside from other performance stats. Follow the steps below to install and configure the official Cloudflare plugin on your WordPress site.
Log in to your WordPress dashboard and click on the Plugins menu > Add New
Search for Cloudflare using the WordPress plugin repository
Install and activate Cloudflare
From your WordPress dashboard, go to setting > Cloudflare to access the plugin. This should open a login page.
Click on the sign-in link below the Create Your Free Account button. This should open a sign-in window requesting your email address and your account API key.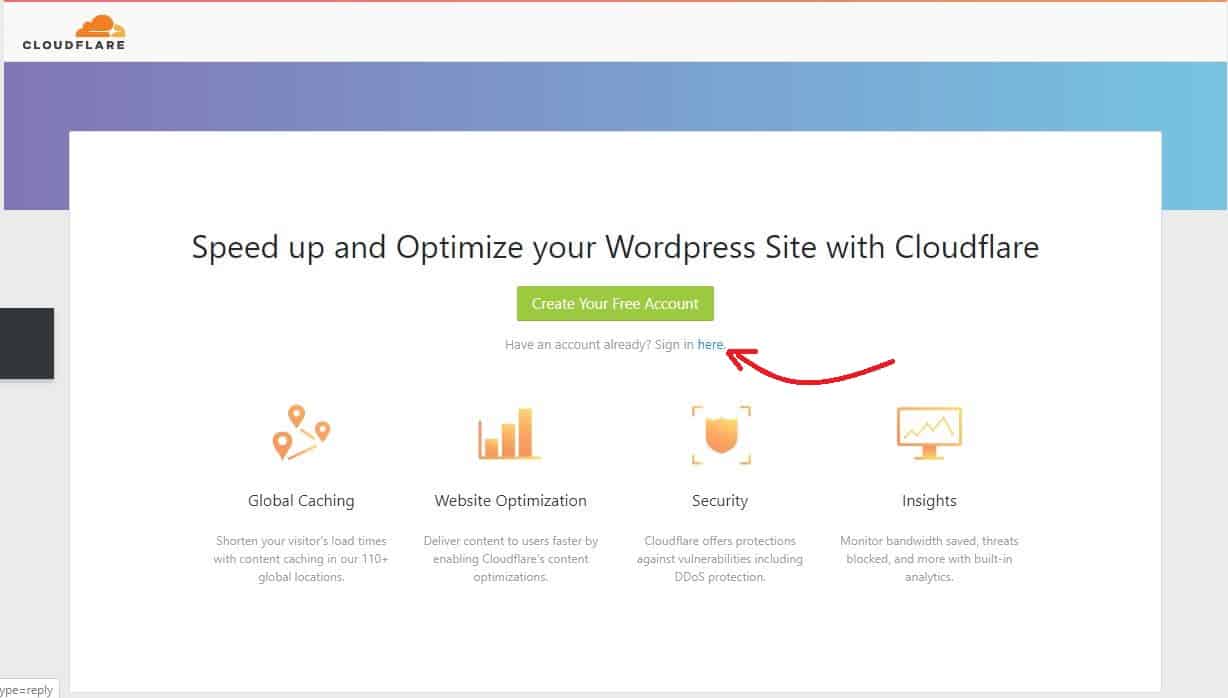 Click on the Get your API Key from here link within the sign-in window. This should open your Cloudflare account in a new browser window.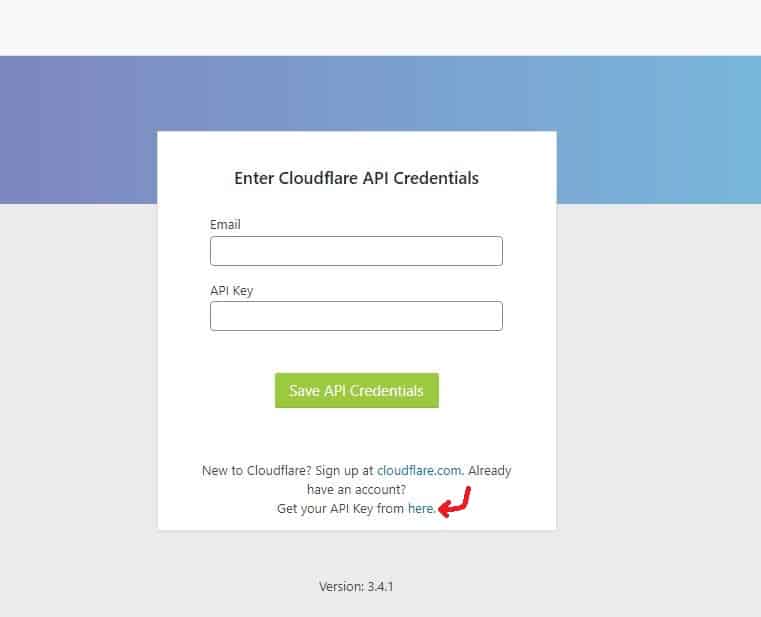 Click on the API Tokens tab, and under the API keys, click the View button on the Global API Key This will open a new dialog box asking for your password.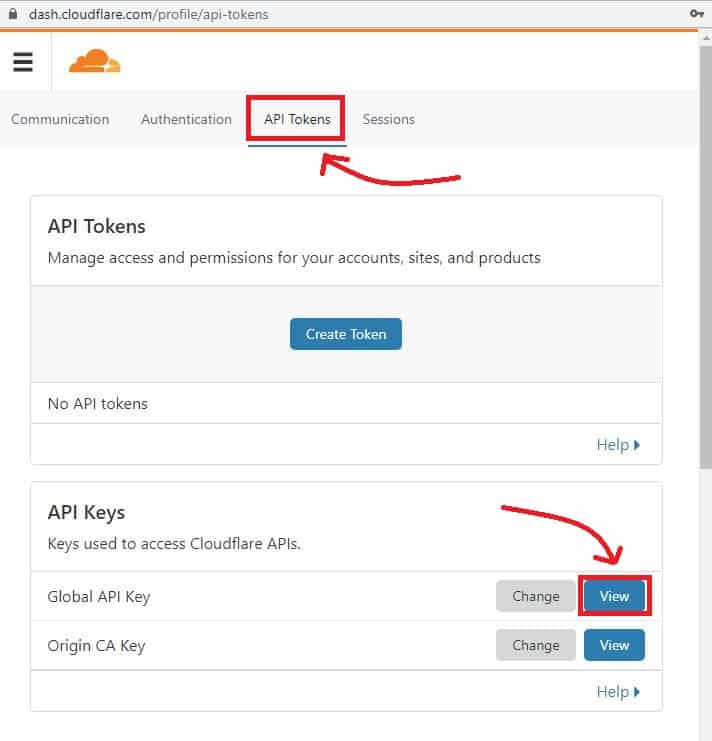 Enter your Cloudflare account password, tick the captcha, and click on the View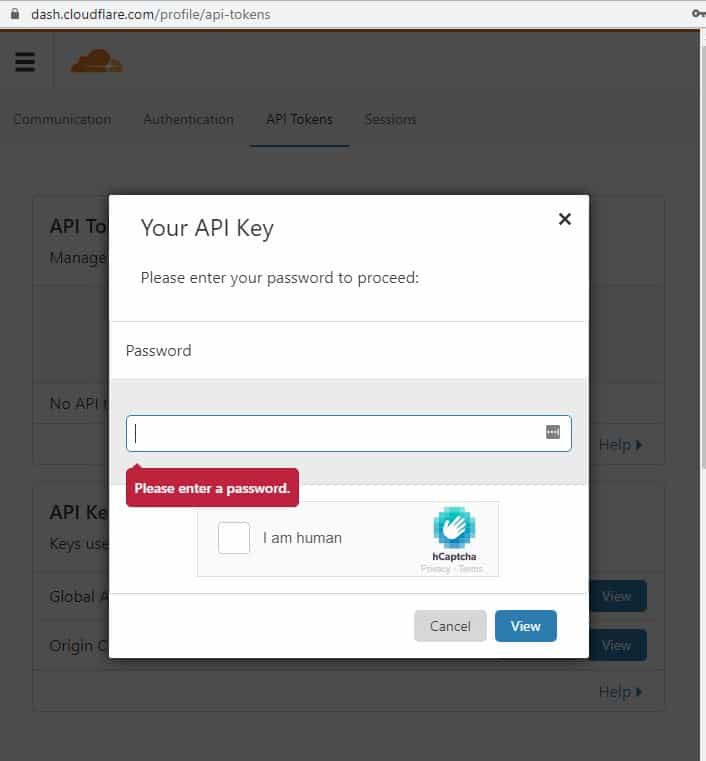 Copy the API Key to your clipboard and head over to your WordPress dashboard.
Enter your email address, paste the API key and click the Save API Credentials
How to configure the official Cloudflare plugin
Go to the Cloudflare plugin settings (Settings > Cloudflare) and
Under "Automatic Platform Optimization" click the "Purchase" button. This will open up in a new window and allow you to make the purchase directly. (The cost is $5/mo if you are on a free Cloudflare account— but it's included in all their paid accounts.)
Flush any and all caching. This is important, because Cloudflare may not recognize right away that you have the plugin installed.
Open the Cloudflare interface again (Settings > Cloudflare) and under "Home" you should now be able to enable Automatic Platform Optimization like below:
Once this is enabled, you are now good to go. It may take a few minutes before you notice the difference. You can test your page load speed and other metrics via GTMetrix