What is KDE?
KDE started life as a desktop environment over 20 years ago. As activities have grown, KDE is now an international team that creates Free and Open Source Software.
What this means in practice is that the many programs from the KDE community work together to give you the best possible computing experience. Does that mean you can't use a KDE application if you don't use the KDE desktop? Not at all. With the help of one or two extra libraries the applications can be used on almost any Linux desktop. What's more, increasingly that software runs on a variety of other platforms. You can now find many KDE applications running under Windows and Mac OS or other devices such as smartphones and tablets.
There are a variety of programs to suit any user's needs, from simple yet powerful text editors, to rocking audio and video players, to the most sophisticated integrated development environment. Plus, KDE applications follow a consistent look and feel across the desktop, giving you a comfortable and familiar experience when using any KDE program.
KDE software has several other features that makes it a top-class working environment, such as:
A beautiful and modern desktop
A flexible and configurable system, letting you customize applications without too much editing of text files
Network transparency allows you to easily access files on other networks and computers as if they were on your own computer
A software ecosystem of hundreds, even thousands, of programs
Availability in over 60 languages
How do I change from GNOME to KDE?
Making the change over is relatively easy nowadays. The following guide will show you how to install the KDE environment.
Install KDE Plasma on Ubuntu 20.04 LTS
There are two ways you can install KDE Plasma in Ubuntu 20.04 LTS. The first way is to install just the desktop environments and nothing more. There is also an option to install complete KDE environment which includes KDE Plasma desktop and the default KDE applications.
If you are not interested in the software suite, you can just install KDE Plasma desktop in Ubuntu 20.04 using below command:
sudo apt install kde-plasma-desktop
In case you want the complete package with all the KDE apps, you can install using below command:
sudo apt install kde-full
After you install KDE, log off or reboot. Then at the login screen, select "KDE Plasma" before logging in.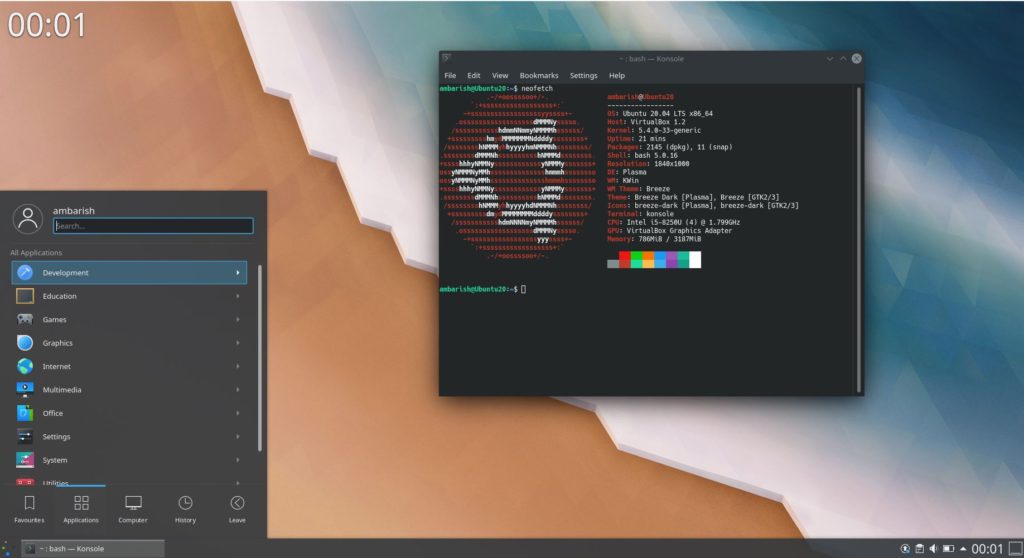 The default RAM usage was kinda similar to GNOME but the overall experience was lighter, e.g. launching start menu and opening an application was certainly faster than GNOME.
Wrapping Up
Well, if you are a fan of Plasma and want to stick to Ubuntu, it's always better to use Kubuntu instead. However, not all of us want to reinstall OS every second day. Installing a desktop environment is certainly easier.